More robust than a personal calendar application, calendarspots.com allows you and your employees to efficiently schedule appointments as a team.
Calendar scheduling software designed for businesses.
The top alternative to Google Calendar & Outlook Calendar.
Personal calendars like Google Calendar or Microsoft Outlook allow you to create appointments by blocking off time in your schedule. You manually enter the client name, contact info, staff, room, service and any notes pertaining to the appointment. Because there's not much room in the box, you use abbreviations and shortcuts to help you remember. Then, you have to teach your staff all the special codes. And isn't it frustrating when you run out of color categories in Outlook Calendar? Or perhaps you're a Google Calendar user suffering from the fact that you can't view all the info in the description field without entering the edit page? We get it.
Appointment Scheduling Calendar
Appointment booking software made easy.
Scheduling rules and filters reduce booking errors and help you better manage appointments.
calendarspots.com
lets you set up scheduling rules and filters to help you and your team reduce booking errors. Drop-down menus display which staff and/or rooms are available based on the service type selected. This means you'll never accidentally book a massage in the waxing room or forget which staff performs a specific service. With multiple staff and rooms to manage at once and requirements to remember for each type of service, our
booking calendars
make scheduling appointments much more intuitive.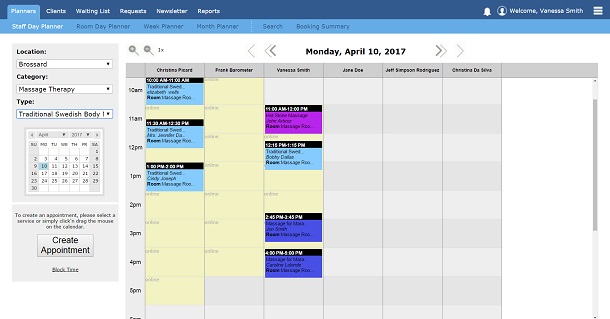 Intuitive Scheduling Calendar
Tag, youére it!
Beyond scheduling: tagging appointments helps you remember important information.
With so many things to get done in the day, and so many interruptions, how ever do you stay on track? Simple. Just create your favorite tags, then tag your appointments directly from the calendar to easily filter, search and remember important action items. You may wish to tag appointments which require a call back, or no shows that still owe you money based on your cancellation policy. Since you can personalize and color code the appointment tags based on your unique needs, the possibilities are endless! You and your staff know exactly what needs to be done at the glance of an eye.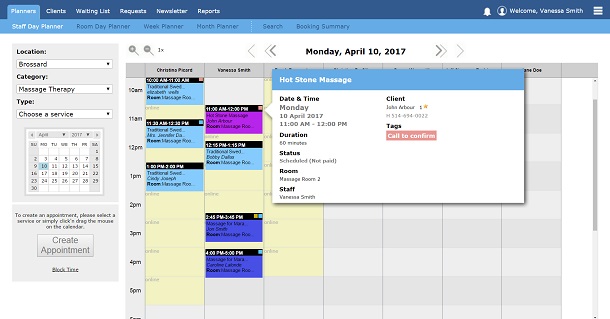 Tagging Appointments